Mississippi Registrations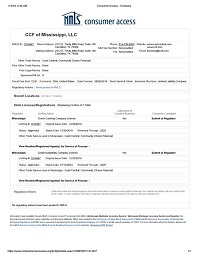 To see the Mississippi Consumer Information click
here
.
The Assurance of State Registered Lending
State licensed /registered lending is your assurance of trust. Many "loan" sites operate offshore, share your information with multiple sources that may not be related to a loan, or offer loans "under the radar" to avoid being governed by state and federal finance laws. That means your information is being seen by entities you never intended. It also means they may illegally charge higher fees and unlimited refinances designed to keep you extending your loan indefinitely.
No State Registration, No Assurance
If a "lender" is willing to skirt the laws of your state, how can you trust they'll be around tomorrow or have your best interest at heart? Without a state license or registration with your state, there is no assurance you're dealing with a legitimate lender- or even a lender at all.
The Cash Central Advantage
If you obtain a loan through this website, you have the peace of mind in knowing our loans are backed by the very legitimacy many other loan sites are missing. Our loans are legal and catered to state laws.